Events
17th ICCAE Open Forum
How far have we achieved in rice research in Kenya?
Uploaded Date: 2018-03-30
Program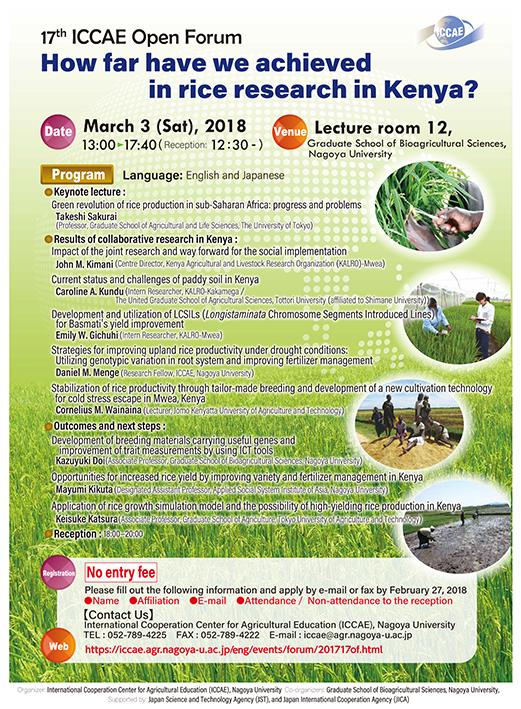 Date
■
March 3 (Sat), 2018 13:00-17:40 (reception 12:30-)
Venue
■
Lecture room 12, Graduate School of Bioagricultural Sciences, Nagoya University
summary
■
In many sub-Saharan African countries, boosting rice production is a pressing issue for food security because the growth in domestic rice production is exceeded by the increase in its consumption. Kenya has currently implemented a policy to double its rice production; however, several impediments such as drought, cold temperatures at high elevations, high salinity, low soil fertility, and rice blast disease, need to be addressed. To achieve stable and improved rice production, development of varieties that can overcome the limiting factors, cultivation technologies suitable for the local environments, and strategies to effectively disseminate a new variety and cultivation technology to farmers is necessary. In addition, it is fundamental to develop human resources to implement these activities. To contribute to solving this issue, Nagoya University and Kenya Agricultural and Livestock Research Organization (KALRO), in collaboration with other Japanese and Kenyan research institutions have undertaken an international joint research project titled "The project on rice research for tailor-made breeding and cultivation technology development in Kenya" supported by JST/JICA SATREPS from May 22, 2013 to May 21, 2018. In this open forum, we will present the outcomes of our joint research and technical cooperation, and discuss further research needs for improving rice production in sub-Saharan Africa and the direction towards achieving social implementation.
Program
■
Contents
Time
Subject
Speaker
Opening remarks
13:00-13:50
MC:Hiroshi Ehara (Professor, ICCAE, Nagoya University)
Masayoshi Maeshima
(Vice-President, Nagoya University)
Tsukasa Nagamine
(Research Supervisor, JST)
Makoto Iwase
(Director, Training Program Division, Chubu International Center, JICA)
Akira Yamauchi
(Professor, Graduate School of Bioagricultural Sciences /
Director, ICCAE, Nagoya University)
Introduction of Kenyan counterparts
Keynote lecture
13:50-14:30
Green revolution of rice production in sub-Saharan Africa: progress and problems
Takeshi Sakurai (Professor, Graduate School of Agricultural and Life Sciences,
The University of Tokyo)

- Coffee break -

14:30-14:50
Results of collaborative research
in Kenya
14:50-16:05
Chair : Yoshiaki Inukai (Associate Professor, ICCAE, Nagoya University)
Impact of the joint research and way forward for the social implementation
John M. Kimani
(

Centre Director, Kenya Agricultural and Livestock Research Organization (KALRO)-Mwea

)
Current status and challenges of paddy soil in Kenya
Caroline A. Kundu
(Intern Researcher, KALRO-Kakamega /
The United Graduate School of Agricultural Sciences, Tottori University (affiliated to Shimane University))
Development and utilization of LCSILs (

Longistaminata

Chromosome Segments Introduced Lines)
for Basmati's yield improvement
Emily W. Gichuhi
(

Intern Researcher, KALRO-Mwea

)
Strategies for improving upland rice productivity under drought conditions: Utilizing genotypic variation in root system and improving fertilizer management
Daniel M. Menge
(

Research Fellow, ICCAE, Nagoya University

)
Stabilization of rice productivity through tailor-made breeding and development of a new cultivation technology for cold stress escape in Mwea, Kenya
Cornelius M. Wainaina
(

Lecturer, Jomo Kenyatta University of Agriculture and Technology

)

- Coffee break -

16:05-16:20
Outcomes and
next steps
16:20-17:35
Chair : Daigo Makihara (Associate Professor, ICCAE, Nagoya University)
Development of breeding materials carrying useful genes and improvement of trait measurements by using ICT tools
Kazuyuki Doi
(

Associate Professor, Graduate School of Bioagricultural Sciences, Nagoya University

)
Opportunities for increased rice yield by improving variety and fertilizer management in Kenya
Mayumi Kikuta
(

Designated Assistant Professor, Applied Social System Institute of Asia, Nagoya University

)
Application of rice growth simulation model and the possibility of high-yielding rice production in Kenya
Keisuke Katsura
(Associate Professor, Graduate School of Agriculture,
Tokyo University of Agriculture and Technology)
Closing remarks
17:35-17:40
MC:Hiroshi Ehara (Professor, ICCAE, Nagoya University)
Akira Yamauchi
(Professor, Graduate School of Bioagricultural Sciences /
Director, ICCAE, Nagoya University)
Reception
18:00-20:00
Venue: Hananoki restaurant
Language
■
English and Japanese
No entry fee
■
registration
Please fill out the following information and apply by e-mail or fax by February 27, 2018
*Name *affiliation *E-mail *Attendance / Non-attendance to the reception
contact
■
International Cooperation Center for Agricultural Education (ICCAE), Nagoya University
Tel : 052-789-4225 Fax : 052-789-4222
E-mail : iccae[at]agr.nagoya-u.ac.jp
Organizer
■
International Cooperation Center for Agricultural Education (ICCAE), Nagoya University
Co-organizers
■
Graduate School of Bioagricultural Sciences, Nagoya University
Supported by
■
Japan Science and Technology Agency (JST), Japan International Cooperation Agency (JICA)